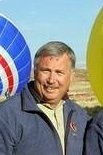 Our Mission and Goal
BelleStar - LTA Aviation has been formed to provide a variety of high quality services directly involved with Hot Air Balloons and Lighter Than Air Aviation.
You may have seen our balloons, BelleStar, HeatWave and the BabyBalloon, at many events and festivals world wide in support of sponsors and events.
We support K-12 Educational Programs focused on introducing students to aviation with a direct and personal approach.
Through our Corporate Balloon services we provide corporations with enhanced visibility in their product promotion, publicity and entertainment events.
More information about each of these activities can be found by going to the tabs found at the top of this screen.
The other pages on this site are devoted to the "fun" side of ballooning that we enjoy with our sport balloons, BelleStar and HeatWave. BelleStar is an Aerostar RX8 and HeatWave is a Kubicek BB26XR. All are registered with the FAA. Yes, balloons are aircraft. The FAA governs the aircraft, the pilots and the flights we conduct.
For those individuals that are seeking a private ride experience for 2 people we do lease one of

our balloons, pilot and crew at the rate of $750/hr plus travel expenses. Contact

Kent Barnes for further information as to availability and scheduling.